5 Tips to Keep in Mind when Planning a Living Room Makeover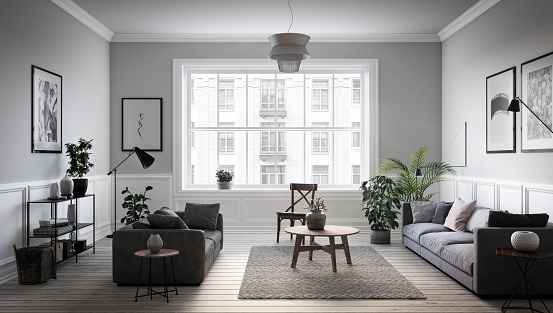 So, you've decided that it is time to give your living room a makeover, and you're not sure where to start. You know what style and feel you want your living room to be, but you're just not sure how to bring it to life. Luckily, your friends at Cleo's have you covered- which is why we've put together this list of 5 things to keep in mind when planning a living room makeover. Keep reading to learn the best design practices and how Cleo's can help you through the process.
Focal Point
First, you'll want to determine the focal point of your living room. Think about the functionality you want from your living room- do you and the family enjoy binge watching TV or do you enjoy sitting around and having conversation or playing board games? If you desire a more hidden look, try decorating with a television armoire or other concealable living room ideas that will hide your television behind doors when it is not in use.
Furniture
How you choose to style your living room is all dependent upon your preference and the furniture you choose can make or break your space. Living room sofas tend to be the largest and most expensive decor pieces you will buy. Most of everything else in the room tends to revolve around the sofa. Therefore, the sofa is a good place to start decorating. Will you want a coffee table or an ottoman? All of these are things you will want to consider when designing your living room.
Window Coverings
Window coverings are key to a perfectly designed space. Use roller shades, woven woods, shutters, or drapery panels as a living room idea to add character to your living room. If you choose to use curtains- try experimenting with materials or colors that flows with your wall color or blends with the rest of the room's decor while controlling light and privacy. Windows and natural light will also affect design choices like paint color, flooring, and furniture arrangement.
Walls
Walls also play an important role in the overall design of your living room. The color and texture of your walls can completely change the vibe and aesthetic of your room. Are you an art collector and want to showcase your collection or do you prefer to have bare walls and keep a neutral tone throughout your space? You'll want to consider all of these things when designing your space. The fun thing about walls is that they can always be repainted or redesigned with new artwork to give your living room a completely different feel.
Lighting
Lighting plays a big role in living room design. Does your space have a lot of natural light? A fireplace? If you can't afford to have an electrician come and install new fixtures or update old ones- floor and table lamps on dimmers can set the mood when desired.
Visit Cleo's Furniture Today
Now that you know how to design your perfect living room- stop by any one of Cleo's 15 locations. Not sure what you want? Our team of in-house designers are here to help you through the process and help make your dream living room come true. Visit us today- we look forward to seeing you soon!
Comments are closed