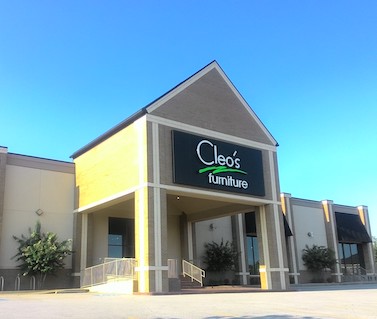 PHONE:
479.935.4515
ADDRESS:
636 E Joyce Boulevard
Fayetteville, AR 72703
STORE HOURS:
Monday – Friday: 10 am to 8 pm
Saturday: 10 am to 6 pm
Sunday: 12 pm to 5 pm
STORE INFO:
Appx 40,000 sq ft
Flagship store
Carries most everything Cleo's Furniture has to offer including accessories
Shop Living Room Furniture in Fayetteville
The living room is arguably the most important room in your home. It's where you entertain guests and unwind with your family after a long day of work. The perfect living room is both stylish and comfortable. It shows off your personality, while also inviting friends and family to kick back and relax for a while. Whatever piece of furniture you need to craft your ideal living room, Cleo's Furniture in Fayetteville has it in stock. Whether you're searching for a trendy sofa, a plush recliner or an elegant coffee table to top off your living room, we have the furniture you're looking for.
The couch is the focal point of a well-designed, comfortable living room. Cleo's in Fayetteville offers an extensive selection of couches, sofas and loveseats to add a touch of style and comfort to your home. Whether you're looking for a big, comfy couch or a small leather sofa, we offer it for a good price. New items we offer are motion sofas, motion loveseats and motion sectionals. These electric-powered pieces will be mainstays in your home for years to come.
While the couch may be the focal point of the living room, the accent pieces are the cherries on top which make it complete. At Cleo's in Fayetteville, we boast a wide selection of chairs, recliners, end tables, coffee tables and entertainment centers which complete a stylish living room. The variety of styles in our store match any design choice and bring life into your living room.
An organized and well-designed living room can have a profound impact on your mood and energy levels. Stylish, comfortable furniture gives you peace of mind and allows you to fix your attention on what's important about your home: spending time with those who you love. If you don't know where to begin in putting together your dream living room, don't worry about it. The team at our Fayetteville location offers decades of experience in helping customers design their ideal living room. Bring in a picture of your current set-up or an idea of what you're looking for, and our staff will help make your ideas a reality.
At Cleo's Furniture in Fayetteville, we have the couches, chairs, and end tables you need to design the perfect living room. Whether you live in Fayetteville or in other parts of Northwest Arkansas, Cleo's is the ideal store for all your living room furniture needs. Browse our inventory online, then come into our store to see our extended collection. There are some pieces in the Fayetteville store which don't feature online, so an in-person visit is a must in narrowing down your choices. We hope to see you soon!