Top 5 Dining Room Design Ideas
Are you moving into a new home and starting fresh with a whole new set of furniture? Luckily, our team at Cleo's is ready to help you design your dream home. One of the rooms often overlooked or just placed with "filler" furniture is the dining room. We understand how important a dining room is- it is a place where the whole family can come together after a long day and share their experiences. Our team is ready to get you into the perfect dining room. Here are the top 5 dining room designs of 2022:
Organic Modern
This style of dining room is a blend of both modern and minimalist styles. Color palettes are more neutral or earthy in tone and there are few decorations, as the furniture speaks for itself. A simple soft wood table in a lighter stain would make the space feel airy and balanced.
Gulfside Getaway
Another trend we're seeing this year is the gulfside getaway. If you want to have a bright and open space, this is the style for you. The wicker chairs give this space an organic feel and bring in a different color/texture to liven up the area. A light-colored/stained table would work best in this type of style. A simple yet airy light fixture brings cohesiveness to the space.
Minimalist
If you want your dining room to be something simple and intentional, the minimalist design might be the style for you. With very limited decorations, the minimalist design makes the dining room table the focal point of the room. The perfect table and chairs to fit this style would have clean lines and a simple design.
Country Cabin
One of the most popular styles this season is the rustic country cabin. This type of dining room makes you feel right at home. When it comes to a table, a two-toned farmhouse-style table would work best for this style. If you really wanted that cozy feeling, you could have bench seating on one side of the table decorated with throw pillows.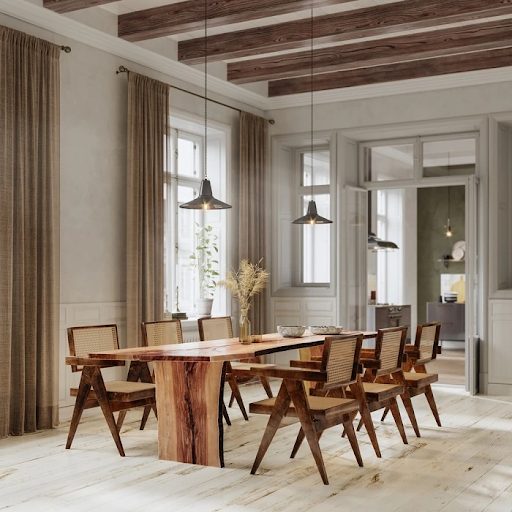 Mid-Century Modern
The last style in trend this season is mid-century modern. This style combines the classic taste with a touch of modern. The hard lines of the dining room chairs and table really bring this room to life. A lacquered natural edge table top lights up the space, and with two simple pendant lights- this dining room is sure to impress both family and friends.
BROWSE CLEO'S DINING ROOM INVENTORY
Visit Cleo's Furniture For Your Dining Room Needs
Now that you have an idea of what you're wanting from your dining room, stop by your nearest Cleo's Furniture store to see what we have in stock. Our team is happy to help you find the perfect dining room table, chairs, and decor to match any style. We look forward to seeing and making your dining room dreams come to life!
Comments are closed