Where to Find Local Events This Fall
Autumn is in full swing in the Natural State, which means plenty of family-friendly activities to keep you busy through the fall season! With temperatures dropping, these upcoming fall festivals and events are sure to be a hit! Here's your guide to finding local fall events in the coming months.
1. Arkansas State Fair:
The Arkansas State Fair is once again kicking off the fall season in Little Rock for a 10-day stay on October 11-21. Whether you're in the mood for concession food treats, live music, petting zoos, or the always-anticipated carnival rides, make plans to attend the 2018 Arkansas State Fair before it's gone! You can find ticket, parking, vendor, and other information here!
2. Arkansas Rice Festival:
The 42nd Annual Rice Festival is right around the corner in Weiner, Arkansas on October 13. This festival has a rich heritage and long history of celebrating the Arkansas rice farming harvest which produces more rice than anywhere else in America. Live music, weiner dog races, haunted scavenger hunts, and of course, rice cook-offs, can be enjoyed by all ages! 
3. Musicfest El Dorado:
The 31st Annual Musicfest in downtown El Dorado is more than just music; it's a weekend experience complete with 5- and 10K runs, food and craft vendors, and an entire Kids Zone complete with inflatables, magicians, and more! Take a trip to South Arkansas on October 18-20 to enjoy over 16 musical acts including Sammy Hagar, Bret Michaels, Toby Keith, and many more! Find a complete list of musical acts and other attractions here.
4.Cheese Dip Championship:
Complete with live music, the 8th Annual Cheese Dip Championship will once again be hosted in downtown Little Rock on October 20! With cash prizes and bragging rights at stake, amateur and professional cheese dip connoisseurs will compete for the title of Best Cheese Dip and many other awards! You can find additional information here.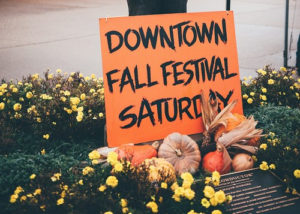 5. Downtown Fall Festival and Chili Cook-off:
For nearly 30 years, Russellville's Downtown Fall Festival and Chili Cook-off has been a tradition in Central Arkansas. This day-long celebration on October 27 is complete with vendors, chili samples, arts and crafts, and live entertainment! Mark your calendars and find more information here.  
6. Harvestfest in Hillcrest:
Each fall the beautiful neighborhood of Hillcrest hosts Harvestfest with a variety of activities for adults and kids alike. Take part in live music, food vendors, a gumbo cook-off and much more on November 3 in Little Rock! Additional details can be found here.
Comments are closed