Creating a Home You Don't Need a Vacation From
You may be spending more time at home this summer than usual, but what's wrong with a relaxing staycation? Instead of being too upset about not taking the big trip you were looking forward to, create a home you don't need a vacation from in the first place! The professional sales team at Cleo's can help you find the perfect pieces to transform your home into your own private getaway.
Go Bold and Bright
When you think of a vacation home, you likely think of bold decor you wouldn't normally pick for your day-to-day house. Why not branch out and brighten things up, even if it's only temporary or for the summer? Beautiful pops of teal or sunny yellow can change the vibe of your whole living room, and beach-themed paintings, throw pillows and wall hangings can help whisk you away from your average day. Hang some painted boat oars above your bed, create a temporary vacation-like "theme" for each room in your home, and transform your kitchen into a stunning summertime paradise. You'll be glad you did.
Try Something New
Don't be afraid to try something new⁠—you'd be absolutely amazed by what a few fresh pieces of furniture can do for your home. It'll look like a whole new house, especially if you take a little bit of time to rearrange as well. Add a pop of gorgeous color to your living room with the Andie Indigo Sofa, or open up and modernize your dining space with the Tribeca Pub Table.
Make "Room" for Relaxation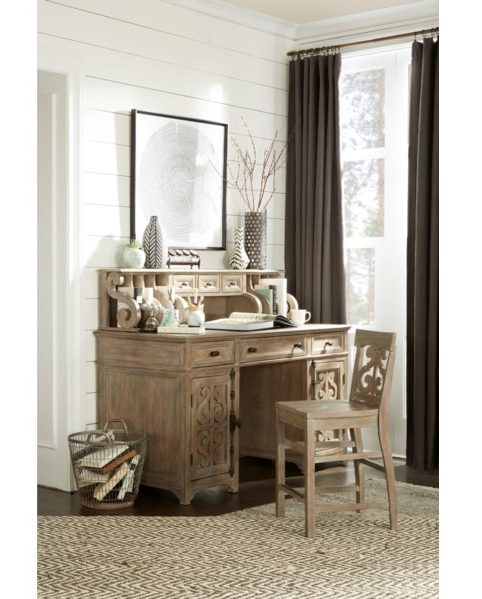 Whether you have an extra bedroom you can transform, or just the corner of your bedroom or living room, it's important to create a space you can relax in. The Tinley Park Counter Height Desk has a fully appointed hutch complete with letter bins and drawers. Add a small indoor water fountain for relaxing background noise, some large seashells, a few lamps to create a soft glow, and treat yourself to a few of your favorite books. You'll love having a go-to space to decompress, not only this summer but year-round. 
Are you looking for furniture stores in Little Rock, Texarkana, Fayetteville, Conway, Jonesboro, Jacksonville or Hot Springs? Come see us at Cleo's today! We're dedicated to helping our customers find exactly what they're looking for, and save money while doing it!
Comments are closed