PHONE:
501.778.8886
ADDRESS:
201 North Main Street
Benton, AR 72015
STORE HOURS:
Monday – Friday: 10 am to 7 pm
Saturday: 10 am to 6 pm
Sunday: 12 pm to 5 pm
STORE INFO:
Appx 16,000 sq ft
Older building located in the heart of Historic District of downtown Benton
Carries most everything Cleo's Furniture has to offer including accessories
Take a virtual tour of our store!
High-Quality Furniture in Benton, Arkansas
Cleo's Furniture in Benton offers the best deals in the state on furniture for every room in your home! At Cleo's, you don't have to sacrifice style for affordability — we offer a variety of leading brands at amazingly low prices. Are you looking for furniture stores near Alexander or Bryant? Our friendly, dedicated staff members are here to help you find the pieces you're looking for based on your specific needs, budget and personal style. We have a wide range of stunning pieces in stock, including casual and formal dining sets, recliners, sectionals, sofas, ottomans, bedroom sets, mattresses and more! We also provide a wide variety of financing and lease options, as well as warranties! At Cleo's, we offer you the look you want, the price you can afford and the quality you demand. We invite you to take a look at what we have to offer online then come shop with confidence at our store in Benton!
Shop for Your Dream Bedroom Set in Benton, Arkansas
Are you ready to snooze in style? At Cleo's Furniture in Benton, we offer a variety of pillow top and Euro-top mattresses you'll enjoy sinking into. Come check out our high-quality king, queen, full and twin-size beds, adjustable bases and gorgeous bedroom sets. Our sales team makes shopping for bedroom furniture easy, and we'll help you find everything you need all in one place. We're proud to offer some of the lowest prices in Arkansas, and we stand behind the unbeatable quality of our furniture! View our selection of bedroom sets here!
Save on Beautiful Furniture in Benton, Arkansas
We're always announcing new deals and promotions to help you save the most on your household furniture! At Cleo's Furniture in Benton, we're ready to help you bring your dream home to life. We offer a huge selection of living room pieces, from stylish sectionals to relaxing recliners. We also have a great variety of dining room tables and pub sets. Come see what we have to offer in Benton, or shop our nearby locations in Little Rock and Hot Springs!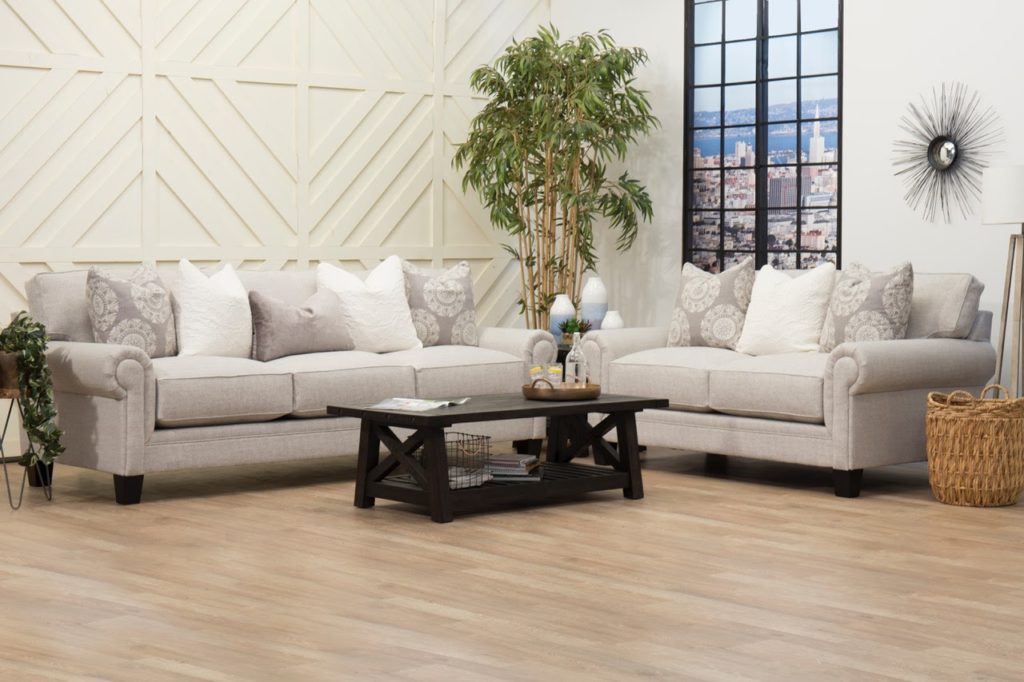 Save on Living Room Furniture in Benton, Arkansas
At Cleo's, we keep a wide range of high-quality furniture in stock at all times, and our low prices simply can't be beat! If you're in need of a couch, loveseat, recliner, sectional or motion furniture, our team would be happy to help you find the perfect piece. Visit us at our Benton location and prepare to transform your home!
Are you on the lookout for a chic new sofa your family will love? We just know you'll find the perfect couch at Cleo's! We frequently unload new sofas at all of our locations, and we have pieces in a variety of styles and colors. Don't miss out though, because they go fast! Sometimes we don't even have time to add them to our website before they're gone. Take the time to come check out our inventory today!
Our loveseats provide a cozy space to relax with a loved one after a long day. Be sure to get a matching couch too, or let your creativity shine with complementary pieces. Our sales professionals are here to help you add a dash of style to your living room no matter the season! 
Upgrade your living room with a fabulous new sectional, and save money while doing so! Whether you need a fabric or leather piece, we have you covered, and our sectionals come in a variety of sizes and styles. We also offer financing options, so don't let your budget hold you back!
At Cleo's, we have numerous motion sofas, loveseats, sectionals and chairs to choose from! Many of our stunning pieces come with features your family will love, including cup holders, consoles and USB ports. Don't hesitate to give something new a try. 
We know that you have options when it comes to picking the perfect recliner, and we're here to help you every step of the way. No matter your style, you'll find something that looks like it was made for you at Cleo's! Get ready to kick up your feet and relax like never before. 

Top-Notch Bedroom Furniture in Benton, AR
At Cleo's Furniture in Benton, we have the mattresses, beds, dressers, nightstands and media chests you need to create the perfect bedroom! We're also happy to offer financing options to our customers. If you're ready to sink into relaxation after a long day, we can certainly help you find everything you need! Our salespeople are knowledgeable, experienced and ready to assist you with a smile. Come see us today and shop our affordable, high-quality pieces.
Beds
Ready, set, relax! At Cleo's Furniture in Benton, we have gorgeous beds in a variety of sizes, from California king all the way down to twin. We also have day beds, bunk beds and adjustable beds in stock at all times! Meeting the needs of our customers is our top priority. No matter your personal preferences, we know we have something you'll love at Cleo's. We're also constantly unloading new items at our stores, so there's plenty of bedroom furniture to choose from. Come take a look at our inventory today!
Dressers, Media Chests & Nightstands
If you need a nightstand, dresser or media chest, we have just want you're looking for at Cleo's Furniture in Benton. Our stylish pieces are built to last and sure to turn some heads! If you're ready to totally transform your bedroom, we also offer a variety of bedroom sets complete with everything you need! Shop our low prices today and you'll never need another furniture store again.
Mattresses
Do you have trouble sleeping at night? We can change that with the right mattress! Wave goodbye to tossing and turning or overheating as you try to snooze. At Cleo's Furniture in Benton, we have firm, plush and cooling mattresses that can literally change your life! Start getting the rest you deserve without all the hassle.
Stylish Dining Room Furniture in Benton, AR
The dining room is one of the most important rooms in a home. It's where families and friends gather to enjoy meals, company, long stories and lots of laughs. Our Benton, AR location offers a varied selection of high-quality, durable and affordable dining room furniture to make gathering a bit easier and a bit more fun. If you're looking for a dining room table, chairs, bar stools or even a pub set, we have a stylish piece with your name on it.
Dining Room Tables and Chairs
For many families, the dining room table is the centerpiece of the home. It's the place of deep conversations, home-cooked meals, holiday celebrations and family reunions. Our Benton location offers dining room tables in a variety of sizes and appearances to meet the needs of any family, large or small. Alongside the table, we sell matching chairs and benches to complete the dining room set-up.
Bar Stools
Do you have a kitchen island or bar which is calling out for some bar stools? You're in luck! We sell bar stools in a variety of styles and materials. If you're looking for something light, we have it. If you're looking for something dark, we have that as well. We offer wood, metal and upholstered barstools to provide a perfect match for any style of dining room or kitchen.
Pub Sets
If you're looking to fill a smaller space, a pub set might be the perfect option. Our Benton location has a few pub sets available which fit perfectly in apartments, smaller houses and kitchens. The square shape of these tables facilitates conversation amongst everyone present and a few of these tables can even seat eight people. The pub set is a versatile dining room option.