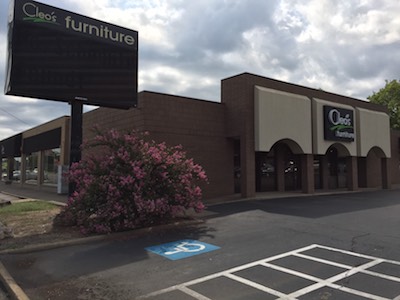 PHONE:
501.318.3338
ADDRESS:
605 Albert Pike
Hot Springs, AR 71913
STORE HOURS:
Monday – Friday: 10 am to 7 pm
Saturday: 10 am to 6 pm
Sunday: 12 pm to 5 pm
STORE INFO:
Appx 50,000 sq feet
Flagship store
Carries everything Cleo's Furniture has to offer including accessories
Affordable, High-Quality Furniture in Hot Springs, Arkansas
Cleo's Furniture in Hot Springs offers the best deals in the state on furniture for every room in your home! At Cleo's, you don't have to sacrifice style for affordability — we offer a variety of popular brands at amazingly low prices. Are you looking for furniture stores near Glenwood or Arkadelphia? Our friendly, dedicated staff members are pros at helping our customers find the pieces they're looking for based on their specific needs, budget and personal style. We have a wide range of stunning pieces in stock, including dining room tables, pub sets, recliners, sectionals, sofas, occasional tables, bedroom sets, mattresses and more! We also provide a wide variety of financing and lease options, as well as warranties! At Cleo's we offer you the look you want, the price you can afford and the quality you demand. We invite you to take a look at what we have to offer online, then come shop with confidence at our store in Hot Springs!
Shop Beds and Mattresses in Hot Springs, Arkansas
Are you ready for a good night's sleep? At Cleo's Furniture in Hot Springs, we offer a variety of pillow top and Euro-top mattresses you'll love sinking into. Come check out our high-quality king, queen, full and twin-size beds, adjustable bases and beautiful bedroom sets. Our sales team makes shopping for bedroom furniture easy, and we'll help you find everything you need in one place. We're proud to offer some of the lowest prices in Arkansas, and we stand behind the unbeatable quality of our furniture!
Save Big on Household Furniture in Hot Springs, Arkansas
We're always offering new deals and promotions to help you save the most on your household furniture! At Cleo's Furniture in Hot Springs, we're ready to bring your dream home to life. We offer a huge selection of living room pieces, from comfy motion furniture to chic sectionals. We also have a great variety of formal and casual dining room tables as well as chairs/seating in a wide range of styles. Come see what we have to offer in Hot Springs, or shop our nearby locations in Benton and Little Rock!
Shop for Your Dream Living Room Furniture in Hot Springs, Arkansas
Are you looking for a snazzy new sectional, loveseat, sofa, recliner or set of motion furniture? If so, we have some good news for you! Cleo's keeps a variety of trendy items in stock year-round, and our deals simply can't be beat! If you're looking for stunning living room furniture at a reasonable price, come see us at our Hot Springs location today.
If you're ready to upgrade your living room, you'll be pleased to know that we have couches in several colors and styles. Our sales professionals can even help you find the perfect pieces to match the color scheme of your room. Don't wait, because our new pieces sell out fast! If you're on the lookout for something that's sleek, exclusive, affordable and sure to turn some heads, rush to Cleo's today!
Take home one of our dazzling loveseats and prepare to relax like never before. We have many options available to help you complete your living room! Ideal for seating two, our loveseats are well worth the price when it comes to design and functionality. Pair one with a matching sofa, or get creative with complementary pieces. 
Add some space and style to your living room for less! We keep a wide selection of eye-catching sectionals at all of our Cleo's locations. Whether you're in need of a leather or fabric piece, you'll undoubtedly find something you adore when you walk into one of our stores. We're also proud to offer payment options, so don't hesitate to take the plunge and treat yourself to something new!
Motion couches, loveseats, sections and chairs…we have it all! Once you fill your living room with motion furniture, you'll likely wonder why you waited so long! Several of our pieces come with convenient features such as consoles, cup holders and USB ports for all of your entertainment needs.
Kick back and relax on a cozy new recliner just in time for the holidays. We know you have a lot of choices when it comes to picking a recliner, but we're here to help you find the right one for your unique needs. We have recliners available in several sizes, styles and colors, so you're sure to find something that'll fit beautifully inside your home.

Affordable Bedroom Furniture in Hot Springs, AR
Are you looking for bedroom furniture that's affordable, fashionable and functional? Look no further than Cleo's in Hot Springs! We have a huge selection of beds, mattresses, dressers, nightstands and media chests you'll love. Transform your bedroom into your own personal paradise with some help from our experienced professionals today…you'll be glad you did! We guarantee that you'll find everything you need for your home at Cleo's Furniture in Hot Springs. We also offer financing options, so let us know if you're interested and we'll help you find a way to take it home today!
Beds
When it comes to scoring the perfect bed, we know that you have several options and your own personal style. That's why we offer a wide range of items in all of our stores. Looking for something sleek, modern, elegant, or rustic? We have a little bit of everything! We keep charming beds in California king, king, queen, full, and twin sizes in stock at all times. We also have adjustable beds that can help alleviate sleep apnea, enhance circulation, improve back pain and more. Wave goodbye to sleepless nights and start snoozing in style with some help from Cleo's Furniture in Hot Springs.
Mattresses
If you're ready for a new mattress, look no further. At Cleo's Furniture in Hot Springs, we offer high-quality mattresses at affordable prices. Do you toss and turn, suffer from aches and pains, or find yourself sweaty and uncomfortable throughout the night? We have options that are soft, cozy, and sure to keep you cool all night long!
Dressers, Nightstands & Media Chests
If you need a nightstand, dresser or media chest, we have it all at Cleo's Furniture in Hot Springs. Our functional pieces are top-notch, built to last and trendy…but you couldn't tell by the price tag! Come take a look at our dazzling bedroom sets that come complete with everything you need to create the bedroom of your dreams!