Turn your Living Room Into an Inviting Space for Guests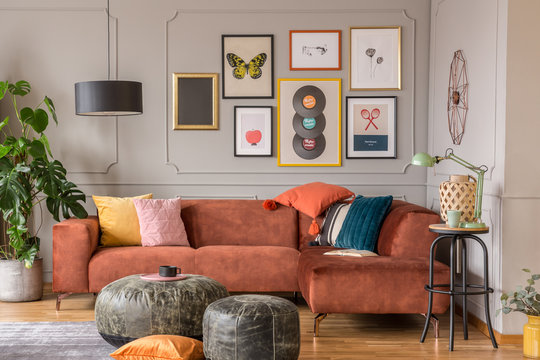 Are you sick of being embarrassed when you invite your friends and family over for a game or date night at your place? Is your living room just not cutting it when it comes to functionality and design? If so, this article is for you! At Cleo's furniture, we understand how important the living room is to the overall vibe of your home, which is why we've put together this list of ways to turn your living room into an inviting space for guests. Keep reading to learn about our decorating tips that will make you and your guests want to cuddle up with a cozy throw and enjoy your oasis. 
Furniture Style & Shapes
A cozy living room needs to have furniture that looks comfortable and makes you want to sit on it. Furniture that has smooth and curved edges helps your living room feel more inviting and warm. Soft and rounded furniture gives your room a more carefree feel and welcoming to both you and guests. If you have hardwood or concrete floors, consider getting an area rug to help define your space. Be sure to remember- if you do choose rounded furniture, you'll want to have a circular or oval coffee table or ottoman to match styles.
Lighting
Nobody wants to sit in an overly bright room- turn off the overhead lights! A bright overhead light can make you and your guests feel awake and alert- which can be either a good thing or a bad thing, depending on the mood you're trying to set. We suggest installing a dimmer switch onto your overhead light so that you can control the brightness to suit your needs. If you're not an electrician, try incorporating plenty of access lighting such as: tabletop lamps, accent lights or floor lamps. Using lamp lights, you are more likely to set the mood with a softer warmer light.
Scents
While lighting can really bring a living room alive, one of the things that can make or break even the most beautiful designs- smell. Nobody wants to be in a room that smells, let alone get comfortable. Using warm uplifting scents can really take your space to the next level. We suggest finding a scent that brings you back to a time when you were relaxed and at peace. Some of our favorites include: woody, lavender, and fresh scents. Smell can have a very powerful impact on your mood and how you perceive an environment.
Home, Sweet Home
No matter what you might enjoy- surround your living room with decorations and things that make you feel at ease. Whether that be plants, colors, or smells- find something that will connect you and your guests with your home.
Visit Your Nearest Cleo's Furniture Today
If it is time for you to upgrade your living room- stop by your nearest Cleo's location to check out our extensive selection of furniture, rugs and decorations. Our team of in-house designers are here to make your furniture buying experience a good one- they'll match you with the perfect set to match your style.
Comments are closed