How to Make a Small Living Room Look Bigger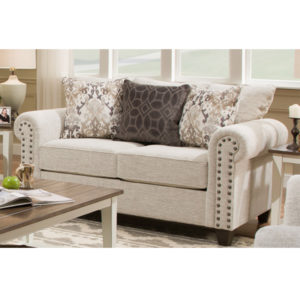 Almost everyone has lived in a small space before. Whether it was your first apartment in college or a small, older house you recently bought in a trendy neighborhood, most people have shared in the experience of making a small living space work. A lack of living space doesn't mean you can't be trendy. There are many ways to make a small house — and particularly a small living room look bigger. Here at Cleo's, we're design experts. We specialize in taking ordinary living spaces and turning them into extraordinary. Check out our four tips for making your small living room seem bigger.
Create Space Between Furniture and the Wall
The first thing most people would do when dealing with a small space would be to push all the furniture to the wall. While this creates more space in the middle of the room, it gives the room a cramped feeling. Instead of pushing your couches and tables right up to the wall, create a buffer zone to give the illusion of spaciousness. A small sofa table like this one here puts some space between the wall and your couch and adds a bit of room for decoration or books.
Use Horizontal Stripes to Elongate the Room
Stripes make anything seem longer. Striped shirts make someone's torso look longer — and therefore slimmer and taller. In a similar way, a striped rug makes your living room look bigger and elongated. Striped curtains make the ceiling look higher. Stripes make a small space look bigger.
Hide Storage Inside Coffee and End Tables
Coffee and end tables are essential to any living room — where else will you set drinks, books, and magazines?! Unfortunately, they take up space which could be used for other things – like storing all random belongings you've accumulated. Take out two birds with one stone by hiding your storage inside of these accents. A coffee table like this or an end table like this one creates extra storage space for your small living room.
Decorate with Bright Colors and Mirrors
The decor of a room can make all the difference. Bright colors add light to the room and that alone can make a room feel better. Mirrors serve a dual purpose — they reflect light to make the room brighter and the reflection also gives a huge illusion of space. While a wall of mirrors can appear overwhelming, a large one like this over the couch can add a great deal of perceived space to the living room.
While decorating a small living room can be a challenge, we hope these tips have helped. If you need any more advice, visit any of our Arkansas locations to see how we can help you make your house a home.
Comments are closed