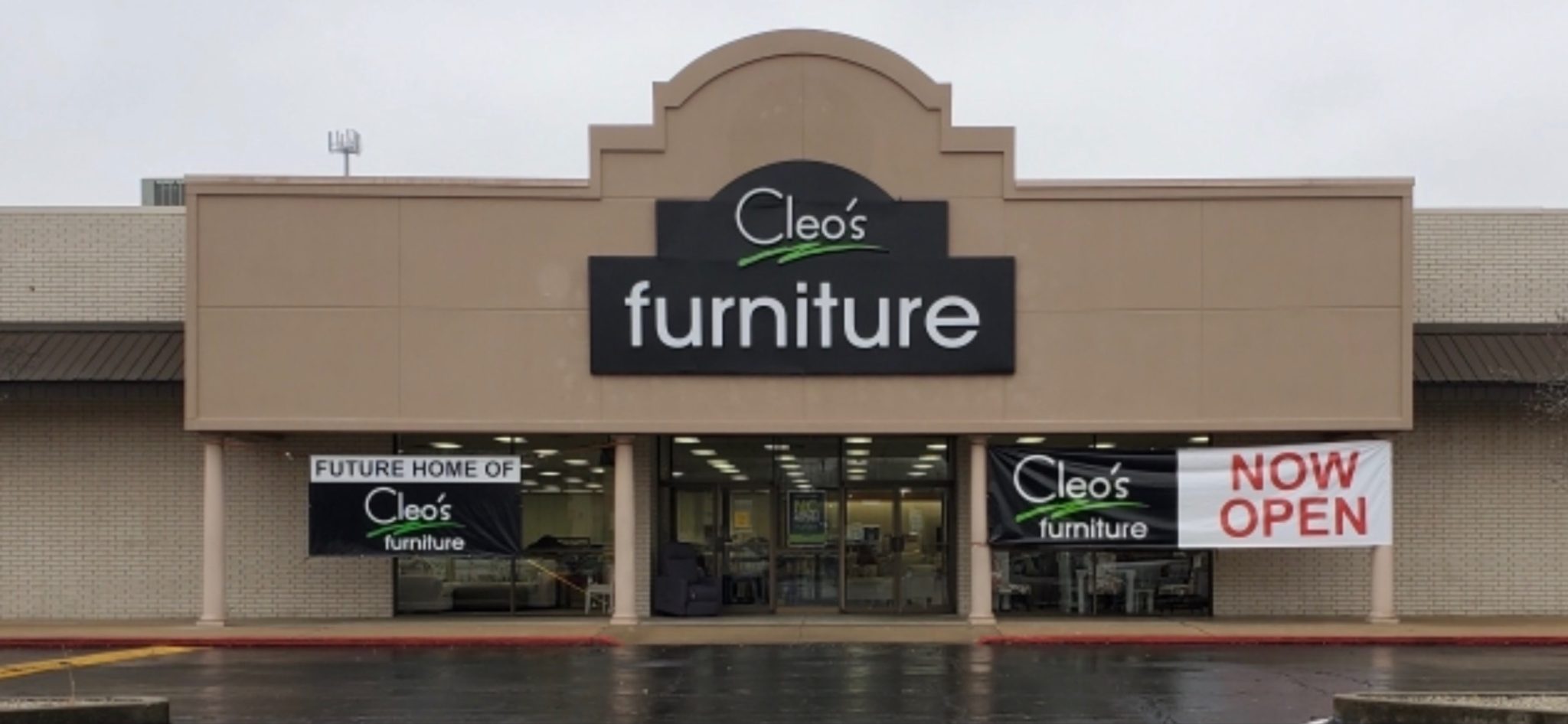 PHONE:
479.890.9333
ADDRESS:
407 N Arkansas Ave Suite 5C
Russellville, AR 72801
STORE HOURS:
Monday – Friday: 10 am to 6 pm
Saturday: 10 am to 6 pm
Sunday: 12 pm to 5 pm
STORE INFO:
Appx 7500 sq ft
Carries only best sellers
High-Quality Home Furniture in Russellville, Arkansas
Cleo's Furniture in Russellville offers the best deals in the state on furniture for every room in your home! At Cleo's, you don't have to sacrifice style for affordability — we offer a wide range of leading brands at incredibly low prices. Are you looking for furniture stores near Pottsville or Dardanelle? Here we are! Our friendly, dedicated sales team is here to help you find the pieces you're looking for based on your specific needs, budget and personal style. We have a variety of stunning pieces in stock, including dining sets, recliners, motion sofas, sectionals, ottomans, bedroom sets, mattresses and more! We also provide a wide variety of financing and lease options, as well as warranties! At Cleo's, we offer you the look you want, the price you can afford and the quality you demand. We invite you to take a look at what we have to offer online then come shop with confidence at our store in Russellville!
Shop Bedroom Furniture in Russellville, Arkansas
Are you ready to rest on cloud nine? At Cleo's Furniture in Russellville, we offer a variety of pillow top and Euro-top mattresses you'll enjoy sinking into. Come check out our high-quality king, queen, full and twin-size beds, adjustable bases and beautiful bedroom sets. Our sales team makes shopping for bedroom furniture simple, and we'll help you find everything you need all in one place. We're proud to offer some of the lowest prices in Arkansas, and we stand behind the unbeatable quality of our furniture! View our selection of bedroom sets here!
Beautiful Bedroom Furniture in Russellville, AR

Bring your dream bedroom to life! At Cleo's Furniture in Russellville, our team members have years of experience when it comes to helping customers find the perfect pieces for their home. If you're on the lookout for mattresses, beds, media chests, nightstands or dressers, look no further than Cleo's in Russellville. Come visit us today!
Cozy Mattresses
Don't wake up exhausted and soaked in sweat again! Your mattress is one of the most important parts of your bedroom, and the professionals at Cleo's Furniture in Russellville can help you find the perfect mattress for your unique needs. Whether you need something firm, cooling or ultra-soft, we have you covered. See the difference that a good night's sleep can make…explore our inventory today!
Gorgeous Beds
Your bedroom is your personal space, and it should be as special as you are! If you're tired of sleeping on the same old bed, jazz things up a bit and upgrade to something new! At Cleo's Furniture in Russellville, we're constantly receiving hot new pieces that we know you'll love. We sell beds in California king, king, queen, full, and twin sizes! We also offer daybeds, bunk beds and adjustable beds. Come take a look!
Media Chests, Dressers & Nightstands
Get the total bedroom makeover experience with a lovely new bedroom set from Cleo's Furniture in Russellville! We have an amazing selection of nightstands, dressers, media chests and much more! If you need it, we have it in stock. Come talk to our sales team today, and feel free to bring pictures, color schemes, drawings and any ideas you have. We'll help you bring your vision to life!
Home Furniture Deals in Russellville, Arkansas
We're always announcing new deals and special offers to help you save the most on your household furniture! At Cleo's Furniture in Russellville, we're ready to help you bring the home of your dreams to life. We offer a huge selection of living room pieces, from chic sectionals to trendy tables. We also have a great variety of dining room tables and pub sets. Come see what we have to offer in Russellville, or shop our nearby locations in Fort Smith and Conway!
Living Room Furniture in Russellville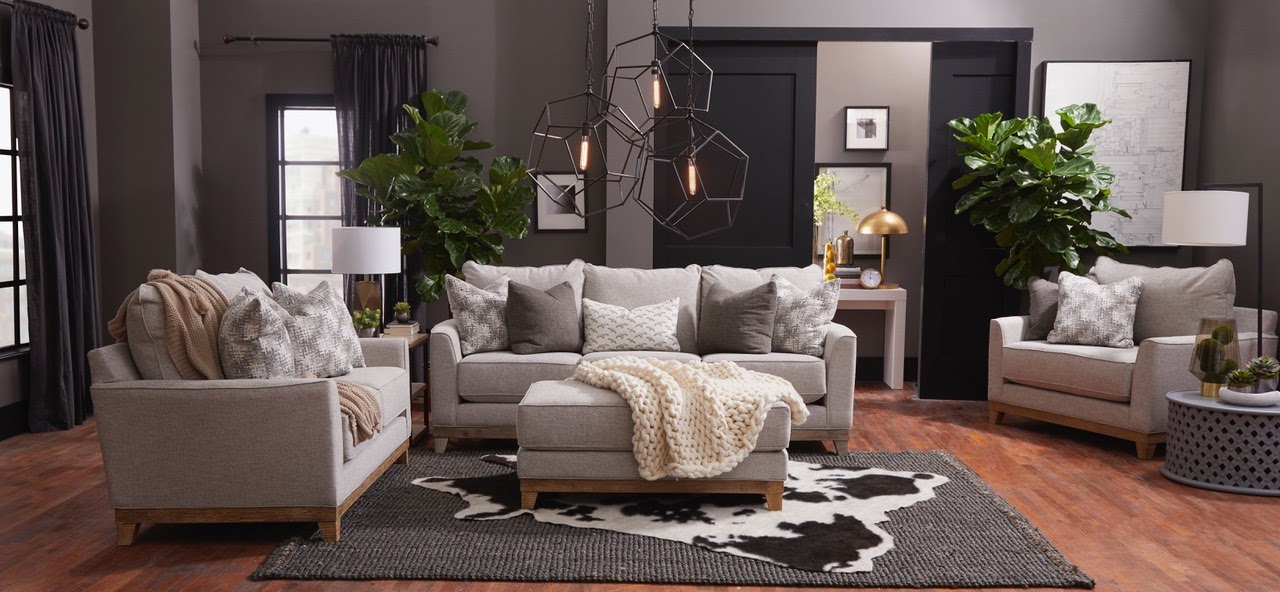 The living room is one of the most important rooms in your home. It's where you host guests and relax with friends and family after a long day of work. The furniture in your living room can say a lot about you. You can use it to express your personal sense of style and add flavor to your home. While you want your living room to be stylish, you also want it to be comfortable. At Cleo's Furniture in Russellville, we sell living room furniture that's equal parts stylish and comfortable. Whether you're searching for a trendy sofa, soft sectional, a comfortable recliner or a stylish coffee table, Cleo's in Russellville has exactly what you're looking for.
A commanding sectional would be a good choice for living room designers starting from scratch, or homeowners who are just ready for an upgrade. At Cleo's in Russellville, we have sectionals in a variety of sizes, colors and styles. You're sure to find something you'll love.
Cleo's in Russellville offers a wide range of sofas to make your living room complete. Whatever type of couch or sofa you're looking for, it's available in our store. We have bright, modern sofas and soft, comfortable couches.
Ready to take home the recliner of your dreams? Come see us at Cleo's in Russellville and get ready to sink into a world of relaxation! You'll be glad you did.
New in our inventory at Cleo's in Russellville are power sofas, power loveseats and power sectionals. These high-tech pieces are electric-powered and recline automatically. Some even offer USB outlets to allow you to easily charge your phone while you relax on the couch!
While the couch may be the most important part of the living room, it doesn't complete your design. You need chairs, coffee tables, bookcases and other accent pieces to make a well-rounded living room. We offer all of those important pieces in our Russellville store. Our accent pieces can match any living room design.
Cozy up and relax on one of our beautiful loveseats! We have a wide selection of loveseats at our Russellville location, and our team members are here to help you find the perfect piece.
If you don't know exactly what you need to complete your living room design, bring in a picture! The staff at our Russellville location has decades of experience in helping customers design their dream living rooms, and they will be ecstatic to help you.
At Cleo's Furniture in Russellville, we have the couches, sofas, sectionals, loveseats and accent pieces to make your dream living room come to life. Check out our inventory online, then come into the store to see our extended collection. Some pieces aren't available online, so an in-store visit is a must in narrowing down which pieces will complete your home. We hope to see you soon!