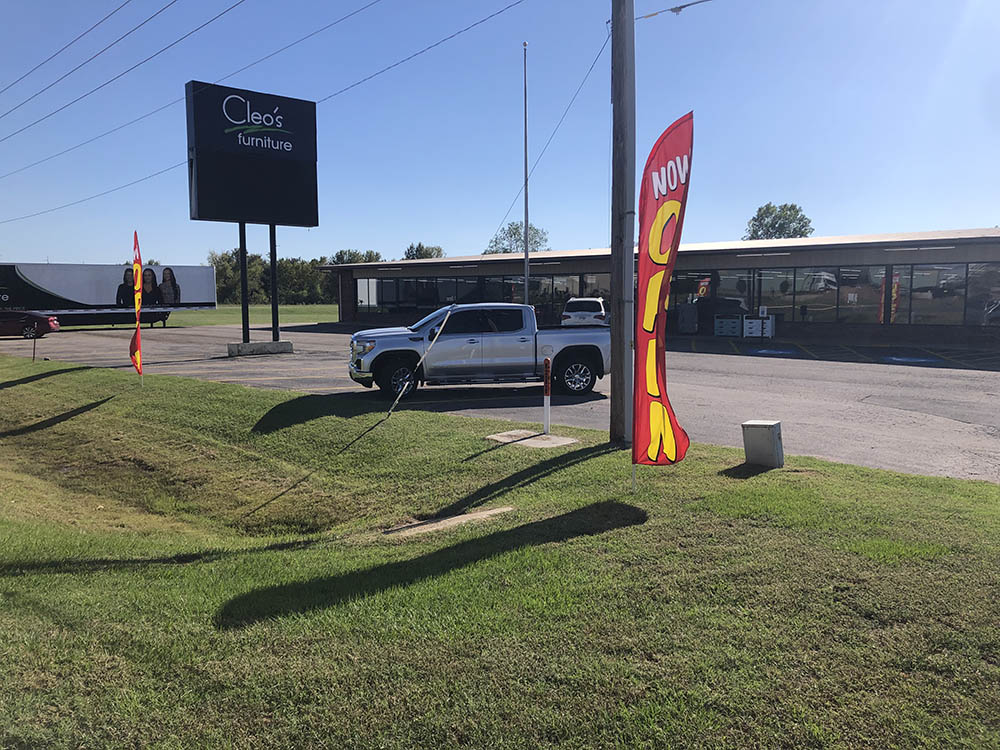 PHONE:
479.424.1946
ADDRESS:
6412 US 71 Business
Fort Smith, AR
STORE HOURS:
Monday – Friday: 10 am to 7 pm
Saturday: 10 am to 6 pm
Sunday: 12 pm to 5 pm
Affordable, Quality Furniture in Fort Smith, Arkansas
Cleo's Furniture in Fort Smith offers the best deals in the state on furniture for every room in your home! At Cleo's, you don't have to sacrifice style for affordability — we offer a variety of top brands at amazingly low prices. Are you looking for furniture stores near Van Buren or Alma? Our friendly, dedicated staff members are excellent at helping our customers find the pieces they're looking for based on their specific needs, budget and personal style. We have a wide range of stunning pieces in stock, including dining room tables, pub sets, recliners, sectionals, sofas, occasional tables, bedroom sets, mattresses and more! We also provide a wide variety of financing and lease options, as well as warranties! At Cleo's we offer you the look you want, the price you can afford and the quality you demand. We invite you to take a look at what we have to offer online, then come shop with confidence at our store in Fort Smith!
Low-Price Bedroom Furniture in Fort Smith, Arkansas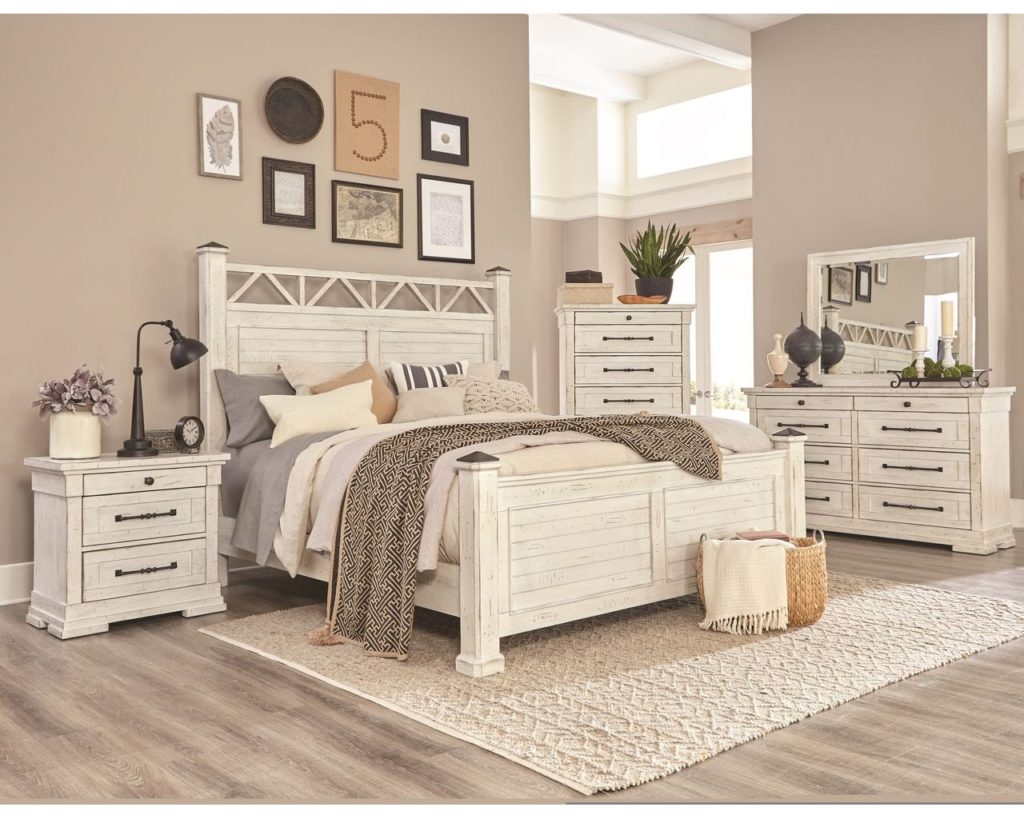 If you're looking for furniture that'll last for years to come, trust Cleo's in Fort Smith for all of your household furniture needs. We have a wide variety of pieces that'll make your bedroom unique, including beds, mattresses, nightstands, dressers and media chests. Our specialists are here to help you find everything you need to build your dream home, and save you money while doing it! Be sure to ask us about our financing options if you're on a budget. Come check out the inventory we have at Cleo's Furniture in Fort Smith today, and leave with a smile and a little something new.
High-Quality Beds
Looking for the right bed can be stressful, but we make the process easy here at Cleo's Furniture in Fort Smith. We have several gorgeous, top-notch beds for you to take a look at. If you're looking for something functional, modern, rustic or chic, we have you covered! We keep a head-turning selection of California king, queen, full and twin sizes available in our stores year-round. We also have adjustable beds if you need some extra relief from back pain, acid reflux or arthritis. Get ready to snooze in style with some help from the Cleo's team!
Dressers, Media Chests & Nightstands
Need a stunning new dresser and mirror set? Come see us at Cleo's Furniture in Fort Smith! We have all of the pieces you need for a full bedroom makeover. From elegant media chests to sleek nightstands, we carry a wide selection of bedroom furniture to meet your needs. We'll help you mix and match to suit your personal style, or you can check out our eye-catching bedroom sets and get everything you need in one convenient package!
Comfortable Mattresses
So long, sleepless nights! If you've been thinking about upgrading your mattress, we can tell you now…you won't regret it! If you stay awake at night tossing and turning, or wake up feeling hot and uncomfortable, our comfort experts are here to assist you. At Cleo's Furniture in Fort Smith, we have mattress options that'll help keep you cool, cozy and quietly dreaming all night long, every night.
Shop Beds and Mattresses in Fort Smith, Arkansas
Are you ready to relax on cloud nine? At Cleo's Furniture in Fort Smith, we offer a variety of pillow top and Euro-top mattresses you'll love sinking into. Come check out our high-quality king, queen, full and twin-size beds, adjustable bases and beautiful bedroom sets. Our sales team makes shopping for bedroom furniture easy, and we'll help you find everything you need in one place. We're proud to offer some of the lowest prices in Arkansas, and we stand behind the unbeatable quality of our furniture!
Shop & Save on Beautiful Furniture in Fort Smith, Arkansas
We're always offering new deals and promotions to help you save the most on your household furniture! At Cleo's Furniture in Fort Smith, we're ready to bring your dream home to life. We offer a huge selection of living room pieces, from stunning sectionals to relaxing recliners. We also have a great variety of dining room tables and pub sets. Come see what we have to offer in Fort Smith, or shop our nearby locations in Fayetteville and Springdale! 
Shop Beautiful Living Room Furniture in Fort Smith, Arkansas
Whether you're on the lookout for a sectional, sofa, loveseat, recliner or motion furniture, Cleo's has you covered! We have a variety of unique items in stock at all times, and our deals can't be beat! If you're looking for gorgeous living room furniture at a fair price, rush to our Fort Smith location today!
Ready to add some style to your living room? We keep a wide selection of sectionals at all of our locations! Whether you're looking for leather or fabric options, we have several sectionals you're sure to love at Cleo's. 
We have sofas in a variety of styles and colors, and we're constantly unloading new couches at our stores. Hurry in though…they go fast! Some pieces are gone before we can even upload them to our website. If you're looking for a sofa that's chic, sleek, eye-catching and affordable, our team of professionals can help! 
Complete your living room with a snazzy new loveseat your family will adore! Perfect for seating two, our loveseats are great for cozying up with a loved one after a long day. Pair one with a matching couch, or get creative with complementary pieces. 
You deserve to kick your feet up and feel comfortable, but our experienced staff understands how difficult it can be to decide on a recliner. We have recliners for everyone at Cleo's, available in several colors, styles and sizes. We also offer payment options, so don't hesitate to take the plunge and treat yourself to something new this year!
We offer several options when it comes to motion furniture, including motion sectionals, couches, chairs and loveseats! Many of our pieces come with lovely features such as USB ports, consoles and cup holders. Get rid of the old furniture in your living room and bring home something you'll actually enjoy spending time on.